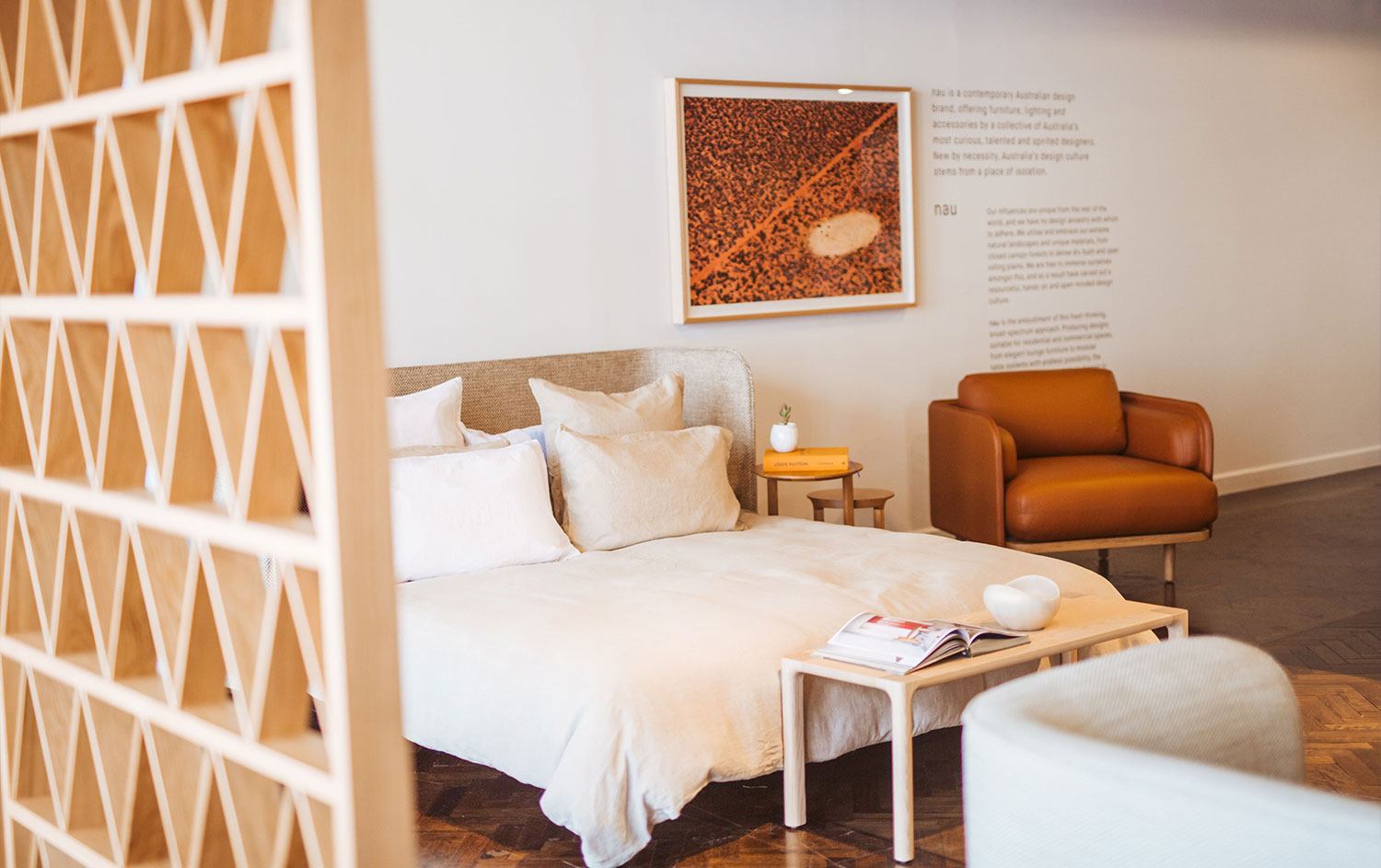 NAU, now available at David Jones
NAU is the sought-after homegrown furniture and lighting brand by Cult Design. Launched in 2017, the collection proved an instant hit, and since February 2019 it has been available in David Jones' home department. With armchairs and sofas upholstered in Pelle's Vienna leather, the collection brings three Australian design-led brands together in one timeless, high-quality offering.
Richard Munao, founder and director of Cult, conceived NAU as a range of creative, authentic furniture and lighting designed and manufactured by group of Australia's leading product designers and craftspeople. Adam Goodrum is the creative director of NAU and he designed a selection of pieces, with other furniture and lighting by Adam Cornish, Tom Fereday, Kate Stokes and others.
The sofas, armchairs, beds, shelving, tables and lighting are characterised by clean and enduring lines and forms and make use of honest and natural materials, such as timber and leather. Goodrum and Munao selected Pelle's Vienna as the preferred leather range due to its subtle grain, natural durability and very soft handle.
Vienna is a full grain semi-aniline leather that exhibits natural characteristics and variations. It is evenly and lightly pigmented and provides protection against food, drink and strong natural light. It is suited to both commercial and residential use and is available in over 100 colours, giving customers the opportunity to tailor the upholstery for their style, setting and space.
David Jones offers a curated selection of the NAU range, including Goodrum's Fat Tulip armchair and sofas, which have strong, simple design and generous proportions that showcase the qualities of the Vienna leather. Other NAU pieces available in Pelle leather include Goodrum's Loom and Aran seating collection, and Adam Cornish's Converse "micro-modular" sofa.
NAU can be viewed on level three of David Jones in Bourke Street in Melbourne, and on the David Jones website.
For more information about Vienna leathers, view the products on our website or contact your nearest Pelle Leathers representative.